Rabbi Shraga Feivel Davidson

שרגא פייוויל ב"ר משה
Rav, Bais Hamedrash HaGadol, Newark, NJ
Date of Death: Thu. March 28, 1918 - Nissan 15 5678

Anyone with biographical information is asked to please send it in.
See CONTACT page for details. Thank you.
Cemetery:
Bnai Jacob Cemetery - Lodi
Directions to Kever: Bnai Jacob Cemetery is managed by Jewish Cemetery Assoc, Inc and is only opened on Sundays. All other days are by appointment only. Prior to your visit call 973-779-3265. Jewish section is located at the corner of Charles Street and Passaic Avenue.
Biographical Notes: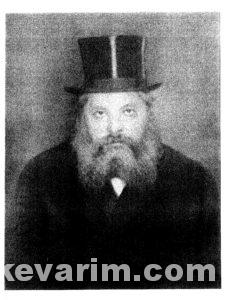 Photo Caption: Rabbi Shraga Feivel Davidson, Credit: Craig Davidson
Bio Information:
Prior to Newark, Rav Davidson served at Bais Hamedrash HaGadol of Norfolk Street in New York City.
« Previous: Rabbi Moshe Tzemach Lippman
Next: Rabbi Akiva Schiff »