Rabbi Shlomo Zalman Margolies

שלמה זלמן ב"ר משה זבולן
Rav, Congregation Anshe Emeth (Park Synagogue), Cleveland, Ohio
Date of Death: Sat. July 7, 1917 - Tammuz 17 5677

Anyone with biographical information is asked to please send it in.
See CONTACT page for details. Thank you.
Cemetery:
Mount Carmel Cemetery Section 1 and Office - Glendale (Queens)
Directions to Kever: Mount Carmel Cemetery in Queens maintains computerized records and will provide a detailed location map upon request. Section: 1, Block: C, Map: 1A, Society: KEHILATH JESHURAN, right behind his father.
Name Listed on Cemetery Database: Name listed on marker: Rabbi S Margolies
Biographical Notes: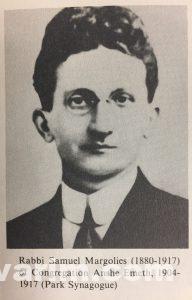 Source: History Of The Jews Of Cleveland, Gartner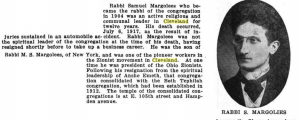 Source: New York Herold, 1917
« Previous: Rabbi Moshe Zerwich
Next: Rabbi Nosson Prigohzy »