Rabbi Avroham Yitzchok Rosenberg

אברהם יצחק ב"ר יהודה יודל
Rav, Bnai Bris Yaakov, Savannah, Georgia
Date of Death: Sun. February 10, 1985 - Shevat 19 5745

Anyone with biographical information is asked to please send it in.
See CONTACT page for details. Thank you.
Cemetery:
Bonaventure Cemetery - Savannah
Directions to Kever: Bonaventure Cemetery located in Thunderbolt (Savannah) maintains computerized records and will provide a detailed location map upon request. Location: Section: Q, Lot: 424
Biographical Notes: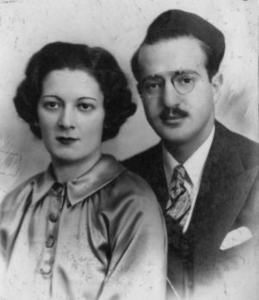 Photo Caption: Rav Rosenberg and his wife Sylvia Rosenberg nee Rabinowitz, daughter of Brownsviller Rebbe. Credit: Needed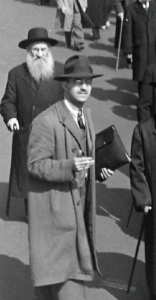 Photo Caption: Rav Rosenberg, Washington, D.C. 1943, Credit: MCA
Bio Information: 
Rabbi Rosenberg was among the over 400 Rabbanim and Admorim who on Erev Yom Kippur, 1943 marched on Washington demanding that the Roosevelt administration help save the Jews of Europe.

« Previous: Rebbe Pinchos Betzalel Malowicki
Next: Rabbi Shmuel Yaakov Mowshowitz »