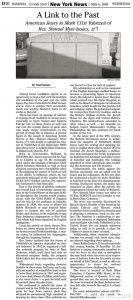 American Jewry to Mark 131st Yahrtzeit of Rev. Shmuel Myer Isaacs, zt"l
By Yosef Gesser
Visiting kivrei tzaddikim affords us an opportunity to forge a link with the Gedolim and tzaddikim of the past and the noble legacy they have transmitted to Klal Yisrael, and to strive to emulate their accomplishments and sanctify Hashem's Name in the world, as they did.
There has been an upsurge of interest in visiting kivrei tzaddikim in recent years, especially in Eretz Yisrael and Eastern Europe. Yet, on these shores as well, one can visit the resting places of great men who made major contributions to the growth of Torah life in America. A pivotal figure in the annals of American Jewish history is Rev. Shmuel (Samuel) Myer Isaacs, zt"l, who fought to uphold the banner of Yiddishkeit in the mid-to-late 1800s and whose kever is in Beth Olam Cemetery in Ridgewood, Queens, N.Y.
Born in Leeuwarden, Holland, in 5564/1804, Rev. Isaacs moved with his family to London at age 10. He eventually came under the tutelage of Britain's Chief Rabbi Solomon Hirschell as well as local dayanim, maturing into a formidable scholar. Recognizing his stature in Torah as well as his ability to influence others, he was appointed principal of the London Neveh Zedek Jews' Orphan Asylum. Yet, opportunity beckoned to him from afar.
Due to the dearth of rabbinic authority and overall lack of knowledge among laymen in the United States at the time, kehillos throughout the country would communicate with the Chief Rabbi of England and his beis din for guidance in halachic matters. In 1839, this state of affairs led Rabbi Hirschell to urge Samuel Myer Isaacs to assume the role of spiritual leader and chazzan at the relatively young Bnai Jeshurun congregation in New York City, which had been organized by English immigrants.
Upon his arrival on these shores, Rev. Isaacs set about raising the level of shemiras hamitzvos and Torah knowledge. A master orator, he influenced his congregants through his inspiring drashos.
Rev. Isaacs realized that the future of Yiddishkeit in America depended on chinuch habanim. In 1842 he organized a full-day yeshivah program for boys at Bnai Jeshurun, which until then had only an afternoon program. Sadly, the program folded after just four years due to a lack of funds.
Widespread laxity regarding shemiras Shabbos in those years led Isaacs and a significant number of mispallelim loyal to him to leave Bnai Jeshurun in 1847 and organize a new shul, Shaarei Tefillah, with Isaacs as the mara d'asra — a post he held until his petirah three decades later.
He continued to uphold the cause of chinuch and in the 1850s he opened a program for boys from various shuls that attained an uncommonly high standard of learning for those times. This yeshivah too was forced to close for lack of support.
His scholarship as well as his command of the English language enabled Isaacs to become a pioneering figure in American Jewry. He helped to found Jews' Hospital, which evolved into Mt. Sinai Hospital, as well as the Board of Delegates of American Israelites, which fought for the Jewish civil and religious rights. He galvanized support for various New York City tzedakos, such as the Hebrew Orphan Asylum, the Jewish Home for the Aged and United Hebrew Charities. His involvements extended to other states, as well — for example, he helped found Maimonides College in Philadelphia, the first seminary for Torah studies in the U.S.
In the latter part of the 19th century, the Reform Movement strove to undermine the integrity of Yiddishkeit. Rabbi Isaacs used his writing and speaking talents to combat their efforts, and in 1857 he founded The Jewish Messenger, a publication that presented the Torah perspective on kedushas beis haknesses and other issues of halachah and hashkafah. His writings appeared in other periodicals also, including The Asmonean and The Occident.
Unfortunately, the battle against the Reform movement was an uphill one for Isaacs and his colleagues. (In his own shul, he confronted a desire for more flexibility in halachah on the part of a changing membership. During his tenure, the status quo remained in place. After his petirah, the congregation joined the ranks of Reform.)
Rev. Samuel Myer Isaacs was niftar on 16 Iyar, 5638/1878 and was brought to rest in Beth Olam Cemetery.
The kever was recently discovered by Baruch Amsel, founder of the Institute for Judaic Culture and History, which researches kivrei tzaddikim in America and is planning a reference book on the subject. The Institute is endeavoring to preserve the memory of departed Rabbanim and manhigim who built Yiddishkeit in the United States but are largely unknown today, as well as to provide a place for Yidden to daven in times of need.
Additionally, when cemetery administrations see people visit these sites, they are alerted regarding their upkeep.
Since Rabbi Isaacs's 131st yahrtzeit falls this coming Sunday, 16 Iyar/May 10, the Institute is urging community members to visit his kever on that day, or throughout the year. Such visits can serve as an expression of hakaras hatov for his noble service on behalf of Klal Yisrael, as well as offer an opportunity to daven for rachmei Shamayim in these challenging times.
The kever is located at Beth Olam Cemetery, 2 Cypress Hills Street, in the Ridgewood section of Queens. It is suggested that one use the second entrance; the kever is found at the Bnai Jeshurun section, left side, towards the end; it is a family plot.
For more information, please call 917-854-7387 or send an email.